Let me tell you I am soooo Not mom of the Year: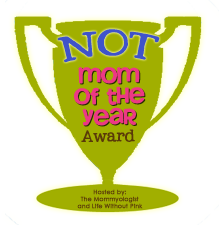 A day in the Life of "Not" mom of the year (a.k.a. me)
I wake up in the morning at 6:28 and think to myself "hmmm I could either sleep for an extra 20 min. before the kids get up; oh but I really should get up and shower before all the chaos begins so I can devote all my energy to my darling rugrats; nope I'll go for the sleep….(two more min. of self debate)….oh dang the kids are already up! There goes either choice". Now the Mom of the Year would have no quams about what to do and would just jump out of bed, quickly shower, doll herself up and have warm pancakes ready and waiting for the kids when they got up. Cold cereal is our breakfast of choice.
After a few hours of our beloved Netflix (oh what we do without you!) and the totally awesome care bears (and of course Mom of the Year would never let her kids watch anything but the most educational programs for only 30 min. everyday) Ethan and Aria have a yummy lunch of "make-your-own-pizza" (let me assure you this is not the norm; microwaved hotdogs, peanut butter sandwiches, and dinosaur chicken are a MUST in our house) while Emma downs her store bought, processed lunch of chicken and pasta and mom gets to enjoy her leftover spaghetti standing in the kitchen. Now the Mom of the Year would be able to feed all three kids at the same time while sitting down herself to a wonderful homemade lunch and would
never
feed her 18 month old anything but homemade lunches made from organic ingredients.
Ethan (my oldest) has been wanting to make a tent/fort for about a week now and has been put off by mom for somethin' or other. No more excuses, here we go. When the tent is done mom crawls inside and has a rest from all the laborious work while the kids run around and make a mess in the kitchen from eating muffins on the counter (at least Emma is accounted for :)). Now mom of the year would
never
get tired during the day and would spend hour upon hour playing with her kids to their hearts content.
"Ok what ya wanna do now kids, mom is gonna write a blogpost" Ethan and Aria got into Dad's office downstairs (which is supposed to be locked but mom forgot and left it open) and brought up their playdough. Now Mom of the Year would ofcourse be actively playing with the kids and not getting a little short at the "mommy look at this's" every 2 seconds but would joyfully relish all their wonderful playdough creations.
The witching hour is nigh and the kids are going crazy. I'm thinking to myself "Danny you better get home soon!" while I throw a stroganoff into the oven for dinner. (at least we have some good home cooked meals thanks to my mom and Stouffers) But I must admit it's not that bad, I do actually cook once in a while. :)
Now Mom of the Year would never get the least bit irritated with her kids and would have fun, educational craft activities ready to keep the kids busy while she prepares her 4 course meal for her husband which will be on the table as soon as he walks in the door. They eat like this every night with the kids sitting properly at the table using their utensils and having perfect manners (certainly not throwing food or the 18 month old eating on the table since the chairs are being used for previously said tent)
After dinner it's a free for all. Kids play some more in the tent while mom and dad try to have some uninterrupted conversation about the day. They weren't outside today so we'll skip bath tonight and just put em' in bed early. Peace and quiet. Now Mom of the Year would never let her kids have a free for all but always have structured fun and safe playtime (with of course mom crawling on her knees having "fun" with the kids) Bath would never be skipped. Teeth brushing would never be skipped. And 20 minutes of educational reading before bed would never be skipped. She would not let out a sigh of relief either when the kids were in bed and quiet because she would have no stress to get rid of. :)
Mom of the Year would also never feel mom guilt (because ofcourse there's nothing she does wrong with the kids)
Mom of the Year would never judge another mom or herself (because she is perfect and ofcourse has the sweetest and most understanding heart)
But I'll let ya in on a little secret……Mom of the Year does not exist! And we're ALL "NOT" Moms of the year! Yep every one of us. Every mom that loves their kids more than the sun an moon an stars (my saying with my "NOT" mom of the year) and would stick a safety pin in the eye for them. Every mom that puts their happiness and fun above that of being a perfect chef and keeping the house spotless. Every mom that has stepped on legos and tinkertoys multiple times, or had a baby head butt them in the nose and never complained about the bruises all over her feet or her nose bleed. Every mom that has been thrown up on, peed on, pooped on and simply gone and changed like it was no big deal. Every mom that believes in letting kids be kids; wear their pj.s in public and dress themselves in ridiculous clothes because this is the only time in their life they can pull this off; because they will grow up far too fast. Every mom that her heart breaks when her children are sick and there's nothing she can do but would take it upon herself in a second if she could. Every mom that sacrifices things for her kids that only another mom could understand. Every mom that is a "NOT" mom of the Year.