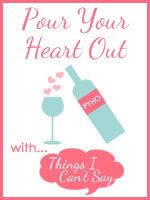 Ya well it's pretty hard to regulate your emotions…..especially if you're a woman!
My husband has been unemployed for 6 months now and it sucks big time! Recently he's had this amazing job come possibility come up in Idaho Falls of all places. Who would want to move to Idaho Falls you ask? Well yes us. We have actually been up there once for an overnight trip…..what made me think of going up there?.....I don't know?......maybe it was foreshadowing……."insert creepy music". No seriously it was a beautiful area and we have always wanted to move somewhere smaller and I even actually proposed the idea of living there someday. Soooo…back to the job.
I've researched a bit about it and asked some questions to others who work there and honestly the company sounds too good to be true. But Tylaine…..don't go getting' your hopes up! Ya ya well it's pretty hard when it's something you really want. My head certainly understand that this could very well be another disappointment in our lives but we all know women's heads do not rule the game, right?
So where is this going? I dunno. We just really need something right now. I feel like we are in a rut and we need a change, BIG change and I'm hoping this is it!