I've been thinking and thinking today about what I could write about but nothin'. I really want to write something because I feel so disconnected from the blog world that so warmly received me 3 months ago. This wonderful meme by Shell was probably the biggest persuasion for me to start my blog and I would like to thank her for that.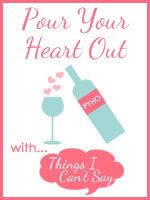 I have read so many wonderful PYHO posts that I can relate to so much. Why can't I write that eloquent when I'm feeling down? I want people to relate to me to. I need support just like anyone else. But I feel as if if I don't have ideas for writing and only post once in a while that I'm left in the dust. I've felt that too much in my life and I don't wanna feel that way at 32 for goodness sake!!! I know I need to participate in things and share myself if I want reciprocity so I don't wanna sound selfish or anything. I have done that and many times got nothing in return so it's kinda hard to put your heart out there.
I am down.
I feel like we're in a rut.
The economy is big time kickin' our butts.
We need a change. a BIG change.
We need to find us again.
I want to be stronger for my kids.
I don't want my kids to have an insecure mom.
I don't want my kids to be insecure.
I want to be able to be assertive for my kids.
I want to be able to be assertive for me.
I hate mom guilt. but I don't know how not to feel it?
I want to be nicer to my kids.
I want to cherish this time of innocence with them.
I. Just. Want to be Happy.