Hosted by Krystyn
How blessed is the mom that has beautiful healthy children.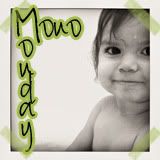 Mother's Day in Black and White:
A piece of me I give to you
I painted this flower
to say, "I love you"
The heart is you
The hand is me
To show we are friends --
the best there can be.
I hope you will save it
And look back someday
At the flower we shared
on your special day.
(Ethan made this in is kindergarden class)
Ethan and Aria picking dandelions for mom (oh my favorite weed!!)
The card reads "Mother's Day is a chance for us to treat you like a Queen...A Queen with really lazy subjects who don't listen very well!"