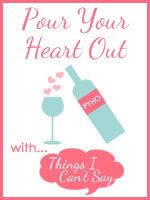 I absolutely love Shell's PHYO Meme but I really wasn't gonna post anything today. I actually thought of giving up on this whole blog thing cause I hate always being so negative and I don't wanna drive ppl away with that. But I need it for me. I felt super down yesterday (ya just hear the violins) It is what it is....just one of my many pity parties lately (ya as in the past 3 years) I felt like the most ungrateful person in the world.
After reading many of the fabulous PHYO posts by so many others and what these amazing women have struggled with and overcome is just inspiring. Seriously if you have not read them DO! It's almost like they were written just for me. I realize that my little problems in my little world are so insignificant compared to what others have gone through. I am so incredibly blessed and I need to stop being a baby and just be grateful for what I have. I don't say that at all in a haha my life is better than yours kinda way. (I don't even like typing those words) I say it in a I truly admire you for your strength and courage and being a wonderful example kinda way. (and thankyou for knocking my humility level up a notch)
I'm tired of having regrets. I'm tired of feeling like I'm wasting away the days. I'm tired of being dissapointed in myself. I know I'm capable of so much more. So why stay in this routine? Cause it's comfortable and change is dang hard! I feel like such a flake cause I know I've talked like this before but I really need to do something. I gotta stop being so immature and act my age. You know you're immature when your 4 year old tells you to not get so frustrated or mad or to stop yelling or that it's gonna be ok when you're breaking down crying. This blog world is truly awesome and I'm so glad I finally got up the courage to start "my own" blog.
Like I've heard so many times. Happiness is a choice and I have to try harder and get out of my comfort zone (cause right now it's not a fun place to be which is kinda an oxymoron.....but so is the mind of a woman).
I just wanna give a big thanks to all you wonderful, amazing women who are so open and honest on your blogs. It truly is a blessing to know there are so many women out there that have the same, sometimes completely irrational, feelings as you do.