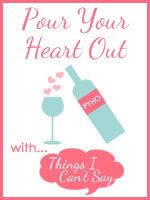 If you've read my past PHYO's you know I'm the absolute antithesis of a social butterfly. In fact I didn't even really have any friends 'till I joined my church and started attending activities and stuff. (Ya I had absolutely zero social life)
A couple on months later a friend and I were chatting and she was talking about how she liked to sometimes chat online and that this was a way sometimes for people to actually hook up. Introducing my first internet experience. I chose a chat room I thought would be appropriate, filled out my online profile and started chatting. Yes it was a single's room and yes I was kinda looking to meet someone but the thought was really in the back of my mind; I just liked talking to "my boys" (I think I freaked my mom out when I said that) Anyways one day this dashingly handsome screename comes on :) His was dreamspark Mine was dreameyes. (Oh those two names are just meant to be together :)) Actually at the time I used my real name which was why he choose me to talk to: cause it was the only "normal" looking name (I guess JadeKing or TomTom weren't his thing) and I kid you not he thought I was a guy! Well he soon learned different.
So after a month or so I asked him to come up (ya so brazen of me I know!) He only could because his mom drove for Greyhound so he got free tickets or else he never could of afforded it. (yep meant to be) 30 hours on the bus!!!! stopping at every little po dunk town on the way. He almost turned back in Montana cause he had been burned so many times before (sorry baby I know it's humiliating but you were a geek, only I saw the true beauty beneath his geeky awkward exterior)
So my reaction when he got off the bus.....(before I saw him: face smiling after I see him: face faking smile, if ya get the picture; ya no starry eyes here)
Long story short. I love him; I turn him away; I toy with him; I tell him there's nothing; he leaves thinking he'll never see me again; I love him......typical right?
Back and forth visiting. Craziest thing I've done. Engaged after a month of IRL and about 8 of online. Serious, you think you know someone online, IRL is sooo different.
And of course there was a moment I gave the ring back. Oooo I was kinda nasty.
It all worked out. The fiancee visa was a hasel (nother story). But I made it to Utah.
After I was here about a week we were married in a little town south of where we live.
It was hot hot hot that day (and I mean that literally it was like 104) I think my mom from Alberta just about melted. It was so beautiful out though! The flowers were gorgeous! Did I mention it was hot??
Then of course we had to stop at McDonald's on the way home. (I always wanted to go into McDonald's in a wedding dress)
The reception was super beautiful too! (the one thing I regret though is not eating more!! Serious, the food was so good I should of got a to-go box for later :) hehe!)
And ofcourse we had to bring something Canadian :)
And now 10 years later we have three beautiful angels and are still goin strong (well not right now but hey! we will be :)) And noone thought it would last.
(Really my mom told me later that she thought I'd be home within a month! :)
This is not just pouring my heart out. This IS my heart. :) (So please be gentle :))